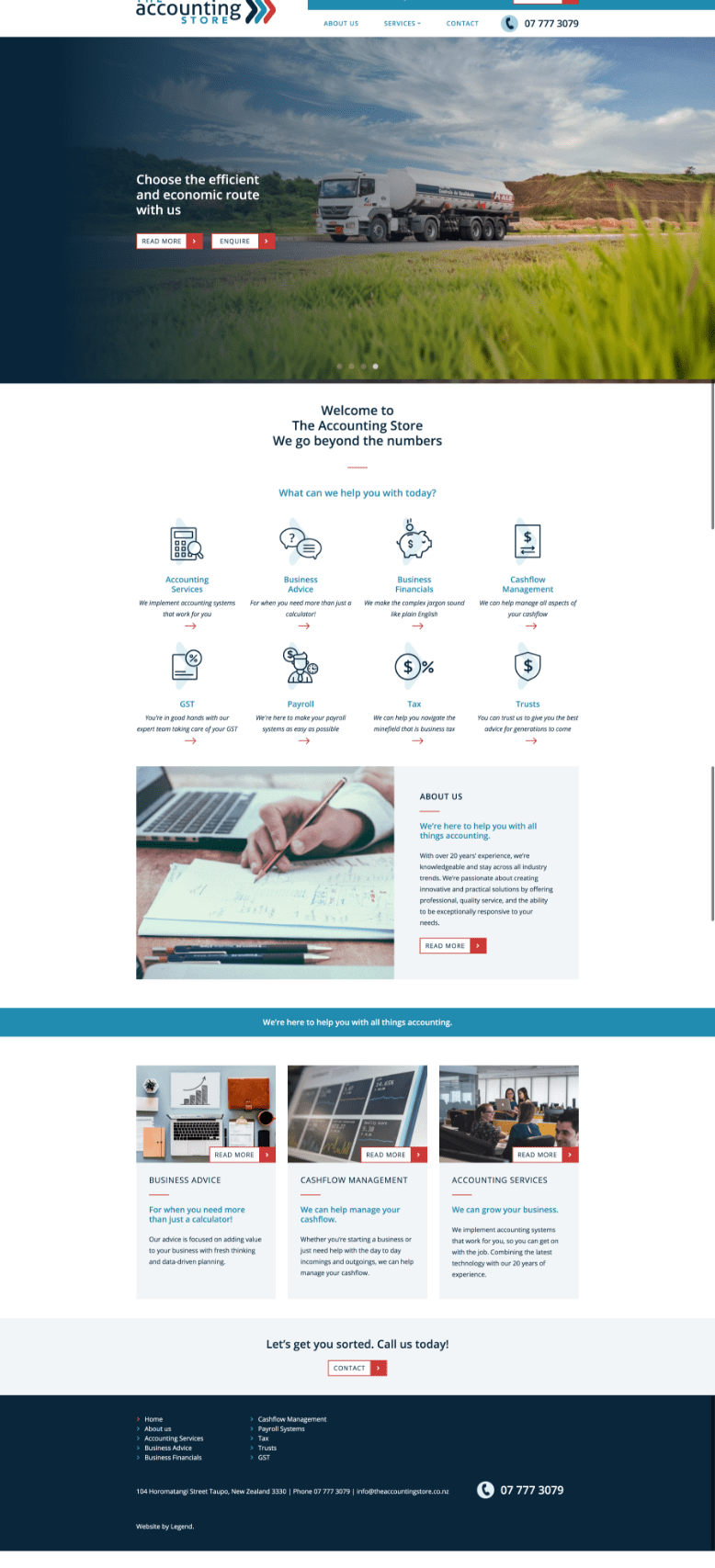 Brochure Websites
A beautiful custom-designed, multi-page website with the ability to easily add more pages when required.
Perfect for small to medium businesses who want to showcase a variety of their services with our Brochure Website, with an eCommerce add-on available.
Get in touch
with the team at Legend to see how we can custom-craft a stunning website for you.
See an Example
Get going quickly
We will upload your content to get you going. Before the website goes live you will receive a training session to learn how to update your content, when required.
Content & copy
Supplied by you; you know your business best!
We can guide you with the copywriting and imagery aspects of your website: In-house copywriters can assist with crafting your content. We can also provide support for sourcing high-res images, from stock photos, to a classy, unique photoshoot for your business.
SEO optimised
Here at Legend we have carefully crafted ways to ensure your website performs it's best, when it comes to SEO (making sure Google is displaying your site front and centre). We can also provide Digital and Social Media Marketing services.
Scroll The Site
4 unique page layouts
Our in-house designers will create 4 unique page layouts to use across your website. These 4 layouts can be utilised across your site, and are often used for:
Home
About
Services
Contact
(You have the ability to add pages in the future when needed).
Also included
Newsletter sign up
Social Media Links
Social Media Feed
Privacy page
Terms and conditions page (if required)

The Process
Initial Discussion
We meet to determine your objectives for your new website. We recommend the appropriate web packages and once the quote is accepted we can begin!
Sitemap
Think of it as a road map for your website — this sets out the pages and navigation.
Wireframe
We create a blueprint for the site structure to ensure optimum user experience and to guide you on content creation.
Content
Copy for pages created (by yourself, or Legend can do that for you). Sourcing of imagery determined.
Homepage Design
When you are happy with the homepage look and feel, we'll continue with the rest of the pages.*
Page Layout Design
We design the composition and look of the unique page layouts (for multi-page sites). This will be based off the approved home page design.**
Build
We build the website to match the design. When the website build is complete, you can start inputting the content.
Content input and training
Once the build is complete you will receive a training session teaching you how to upload your content in WordPress.
Your site goes live! Hooray!
All the final checks and adjustments are made and the website goes live.
Choose a Success Bundle
You're live, now what? Ensure you have the right post project care to meet your goals. Our packages keep your website fresh, functional and on brand.