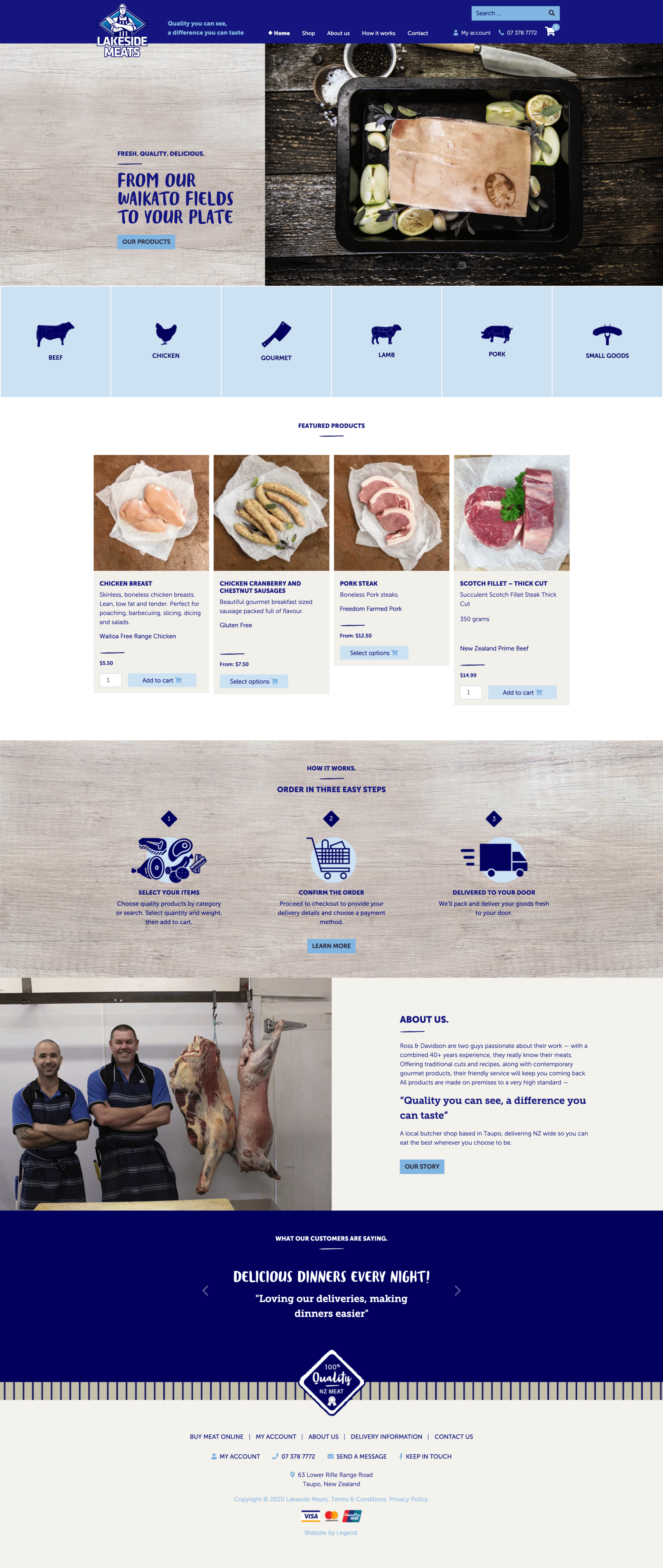 eCommerce Websites
Whether you're launching a business or taking an existing brick and mortar store online; Get started quickly and build your online store exactly how you want.
We work with WooCommerce — an open source eCommerce platform built for WordPress. Basically, you can modify and customise anything and everything. Whether you're a startup or an established brand, you'll be in good company.
Get in touch
to see how we can help support you with your eCommerce website or how we craft something beautiful for you.
See it Live
eCommerce add-on
Available as an add-on to any of our website packages.
Get in touch with the team at Legend to see how we can help.
Point of Sale Integration
If you have a physical store with a point of sale system, then let's get your till and your eCommerce platform integrated for maximum efficiency!
Build Your Customer Database
Meet the customers behind the orders — their behaviour, orders, money spent, products bought and other details in dedicated customer profiles. This way, you can observe shopping habits, monitor the customer journey and communicate on a personal level.
Unlimited Products
WooCommerce can handle anything from one product to thousands — the possibilities are endless! Because it's fully customised, you can add unlimited products and users, and take unlimited orders. Your online store can grow and develop along with your business.
Simple Shipping Solutions
As a merchant, you want to focus on customers: finding new ones, keeping them happy, sourcing the best products for them, growing your brand. WooCommerce minimises your shipping and fulfilment efforts, plus helps you ship faster and cheaper.
Reporting
Turn your data into sales and up-sells. Reports give you the ability to see your store's performance from month to month using graphs and stats. Plugins offer actionable insights about your products, orders or customers to help grow your business.
Trackable Customer Spend
Monitor your marketing campaigns, referrals, influencers and discount codes easily and optimise your marketing spending. You'll know exactly what drives sales for your brand.

Seamless Integration With The Platforms and Plugins You Need
The Process
Initial Discussion
We meet to determine your objectives for your new website. We recommend the appropriate web packages and once the quote is accepted we can begin!
Sitemap
Think of it as a road map for your website — this sets out the pages and navigation.
Wireframe
We create a blueprint for the site structure to ensure optimum user experience and to guide you on content creation.
Content
Copy for pages created (by yourself, or Legend can do that for you). Sourcing of imagery determined.
Homepage Design
When you are happy with the homepage look and feel, we'll continue with the rest of the pages.*
Page Layout Design
We design the composition and look of the unique page layouts (for multi-page sites). This will be based off the approved home page design.**
Build
We build the website to match the design. When the website build is complete, you can start inputting the content.
Content input and training
Once the build is complete you will receive a training session teaching you how to upload your content in WordPress.
Your site goes live! Hooray!
All the final checks and adjustments are made and the website goes live.
Choose a Success Bundle
You're live, now what? Ensure you have the right post project care to meet your goals. Our packages keep your website fresh, functional and on brand.